23% off HDMI Cloner Box for Gaming or HD Video Stream Capture, No PC needed -…

47% off Mpow Fully Submersible Waterproof Phone Dry Bag, 2-Pack – Deal Alert

37% off Fitfort 4K WiFi Ultra HD Waterproof Sport Camera – Deal Alert
LATEST REVIEWS
Microsoft Surface Laptop (Intel Core i5, 8GB RAM, 256GB) – Burgundy

on Amazon $1,299.00

PNY GTX 1080 Ti XLR8 OC

on Newegg $719.99

HP Spectre x2 12-c012dx (2017)

on Best Buy $1,299.99
Editor's note: This article originally published on March 1, 2017, but was updated with additional details, information about scarce mini-ITX availability, and links to AM4 motherboard models after Ryzen's launch.
For AMD's disruptive Ryzen processors, selecting the correct motherboard is both easier and more crucial than ever.
First, the good news: AMD's doing away with the frightful hodgepodge of motherboard platforms to unite around the AM4 socket with Ryzen CPUs, Bristol Ridge APUs, and all other chips released in the foreseeable future. Huzzah! But there are a wide variety of chipsets available for AM4 motherboards, and each unlocks different capabilities in your PC, from USB support to overclocking to how many graphics cards you can install.
Should you buy an X370, B350, or A320 motherboard? Where do X300 and A300 fit in? Let's examine what each AM4 chipset offers so you can make the right decision when you buy a motherboard for your Ryzen 5 or Ryzen 7processor.
Ryzen: More than just a processor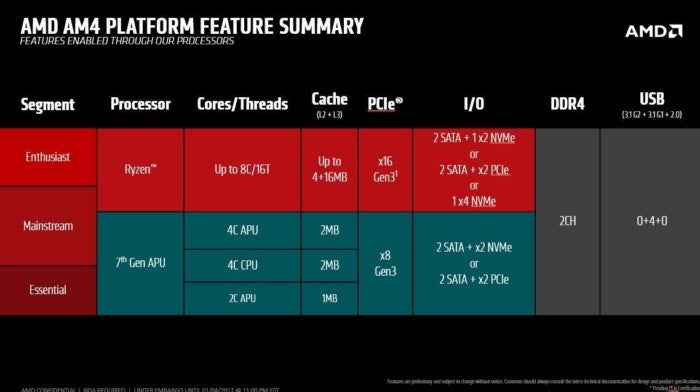 As you can see in the graphic above, Ryzen—and AMD's Bristol Ridge APUs—actually resemble a system-on-a-chip design more than a traditional CPU. AMD's processors integrate support for many interfaces on-chip, including SATA, USB, NVMe, and PCIe.
The different AM4 motherboard chipsets build additional capabilities on top of that. Here are AMD's slides describing each, though we'll include our own easy-to-read comparison chart later in this article.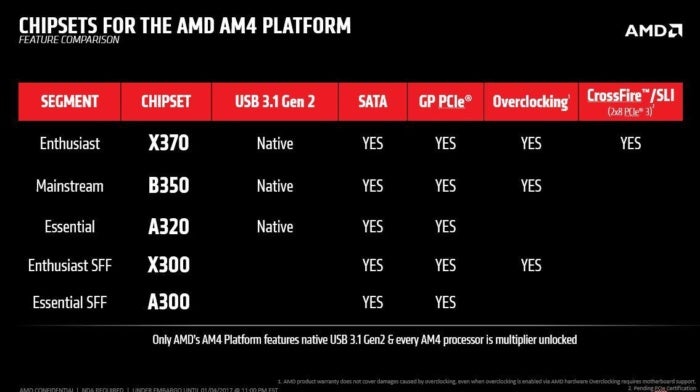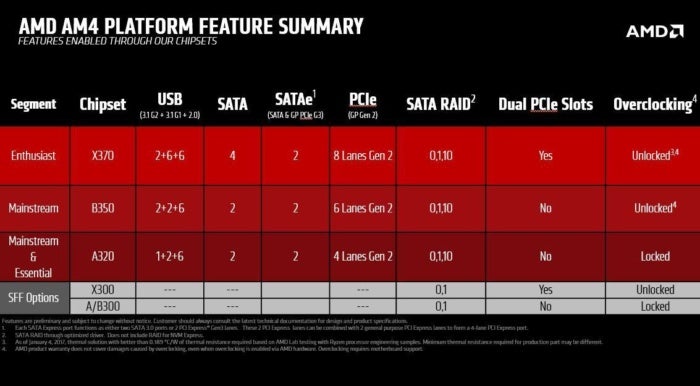 One thing to note: All of the standard motherboard options include support for two SATA Express ports and, well, SATA Express never really got off the ground. But those lanes can easily be repurposed by motherboard makers for other uses, such as traditional SATA III ports or M.2 support, so its inclusion isn't worthless by any means.
Here's the plain-English breakdown of what each motherboard offers beyond what's available in the Ryzen chip itself, starting with the entry level boards and working up from there.
A320 motherboards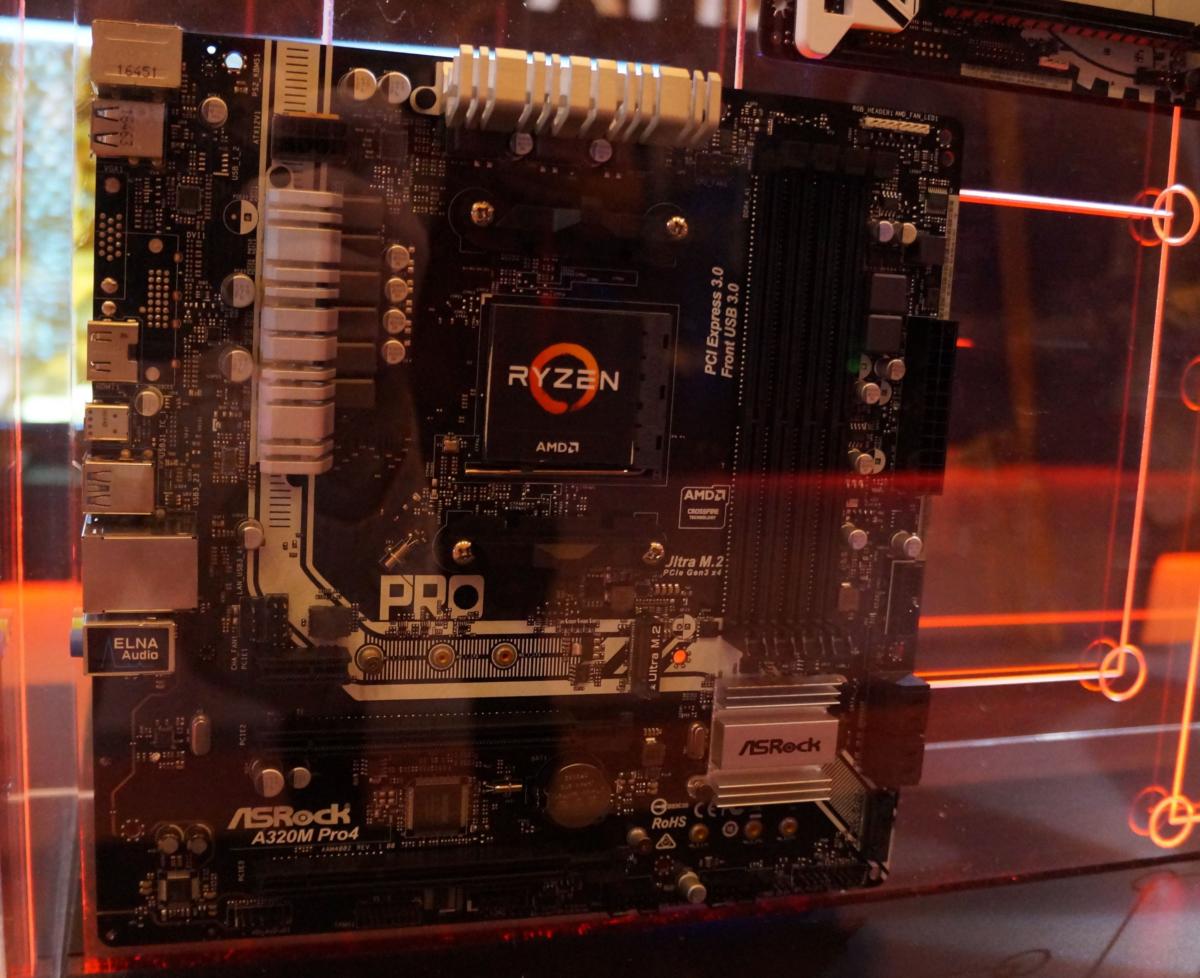 These are your basic, no-frills AM4 motherboards, intended for budget systems and (presumably) affordable big-box PCs from the likes of Dell and HP. These motherboards support a single 10Gbps USB 3.1 gen. 2 port, a pair of 5Gbps USB 3.1 gen 1 ports (augmented by the four USB 3.1 gen. 1 ports baked into Ryzen itself), and up to six USB 2.0 connections. The A320 chipset also supports a pair of SATA III and SATA Express connections, along with up to four PCIe gen. 2 lanes for additional PCIe devices, such as M.2 SSDs, third-party networking cards, and sound cards.

[Source"indianexpress"]