A trio of analysts from Deutsche Bank claims that the iPhone 8 won't be able to break the company's sales records due to the absence of factors that were present leading up to the launch of the iPhone 6 and iPhone 6 Plus.
With smartphones now powerful and marginally improving between the latest releases and folks holding onto their smartphones longer, Deutsche Bank can't see how the iPhone 8 could possibly make the sales that Wall Street is predicting.
Particularly with a rumored starting price over $1,000, it's quite hard to believe that another price hike this significant could also result in an increase of demand. Currently, Deutsche Bank is convinced Apple will barely reach the 230 million units in the first fiscal year after the announcement.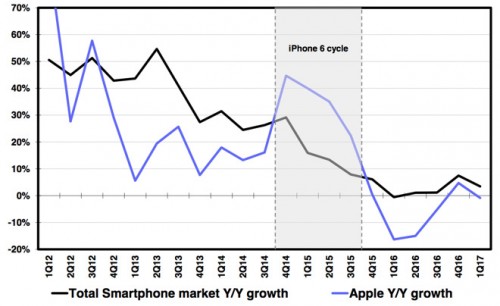 Source: Deutsche Bank
Following the iPhone 6 launch Apple saw 231 million units sold in a year, a number which the company has not been able to repeat yet. In fact, remember when Apple stopped releasing the number of iPhones that were sold during its launch weekend? It started with the iPhone 7, whose Plus model did come with a price increase, thus bumping up revenue without needing to break its own launch weekend records, which Apple has consecutively done until the iPhone 7.
Furthermore, the smartphone market has become over-saturated in the past few years, seeing much less growth than it did back in 2015.
Even as Apple struggles to get the new iPhone out on time, there's no doubt that the iPhone 8 has really high expectations to deliver something fresh, new and spectacular as Apple's 10th version of the phone. The new iPhone is expected to have an edge-to-edge display with an all-new hardware design.
New AR technology is also slated to make it into this new iPhone including some kind of 3D facial recognition. Touch ID may either be moved to the back of the phone or under the display. If we wanted to speculate even more, the Touch ID sensor could even be moved to the power key.
[Source"cnbc"]