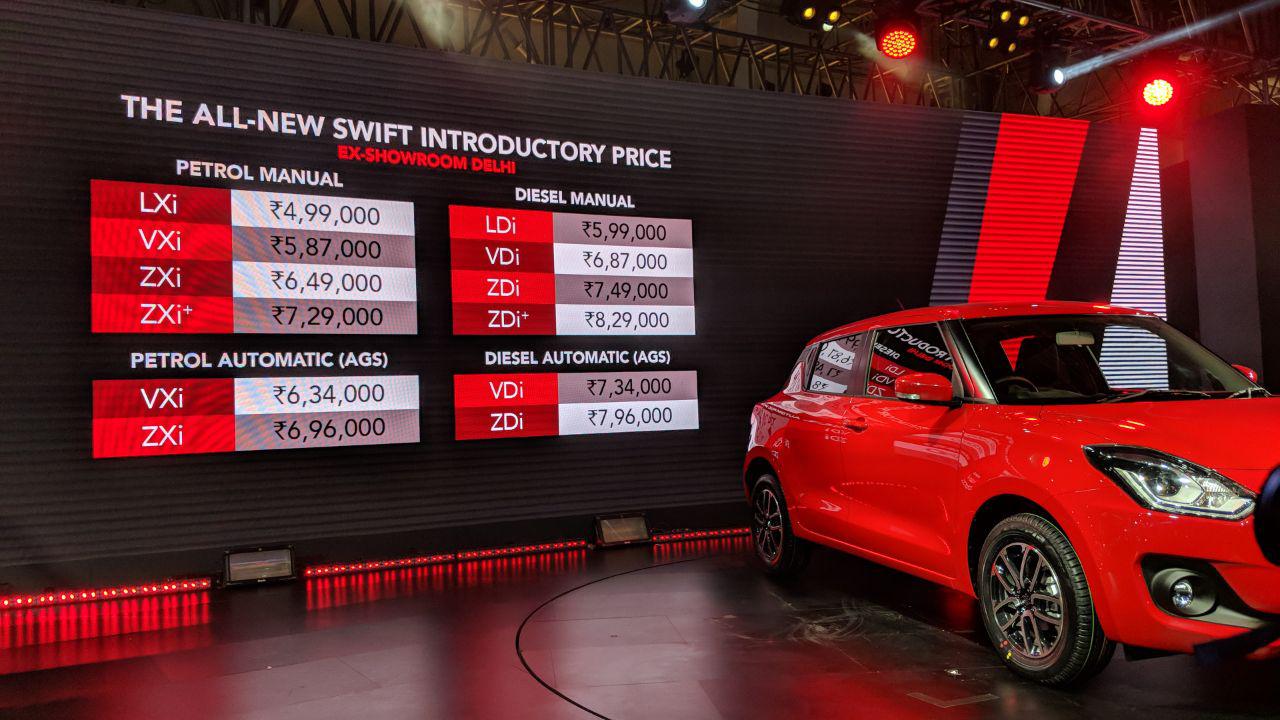 The Maruti Suzuki Swift has finally been revealed at the Auto Expo 2018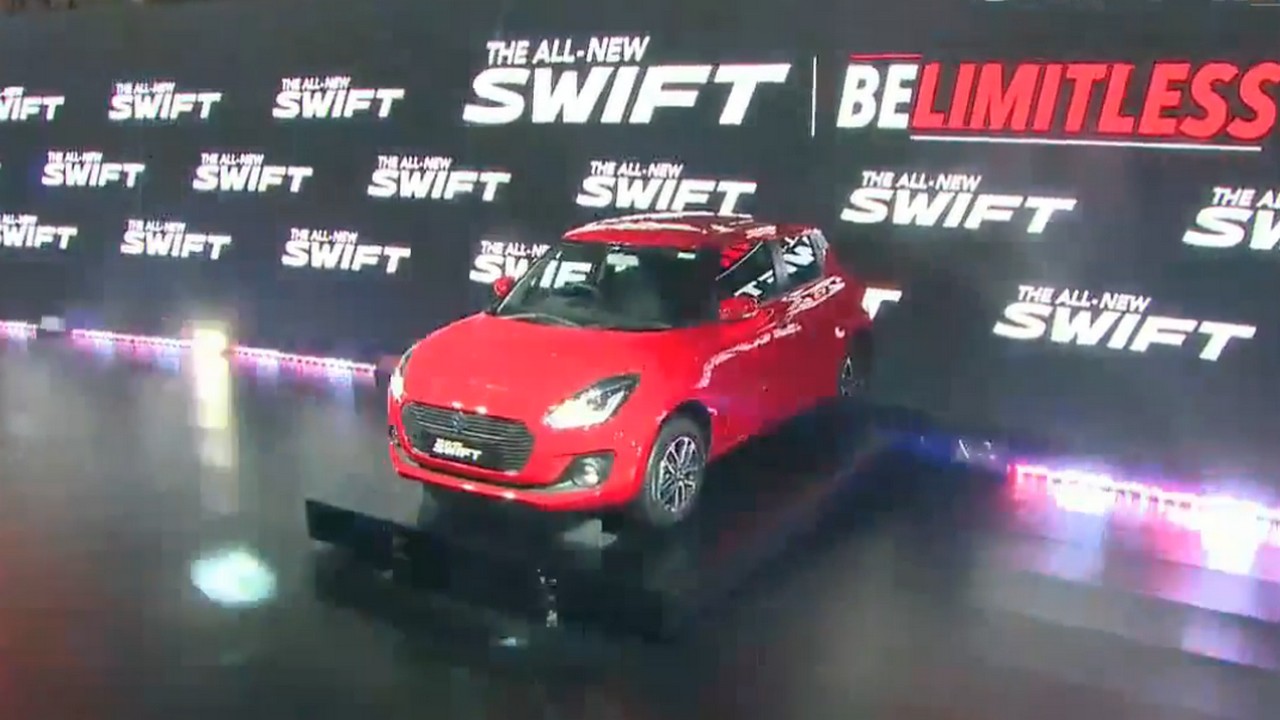 12:32 (IST)

All new Swift pricing is out!

12:29 (IST)

The Maruti Suzuki Swift has finally been revealed at the Auto Expo 2018

12:23 (IST)

12:21 (IST)

CV Raman Senior Executive and Director of Engineering at Maruti Suzuki takes to the stage to explain the new features about the 3rd generation Swift.

"The new Swift inherits its sporty silhouette"

"Space is smartly optimised"

"Cockpit design is driver-oriented"

"Based on the next-gen Heartect platform made of high tensile steel body."

12:21 (IST)

CV Raman Senior Executive and Director of Engineering at Maruti Suzuki takes to the stage to explain the new features about the 3rd generation Swift.

"The new Swift inherits its sporty silhouette"

"Space is smartly optimised"

"Cockpit design is driver-oriented"

"Based on the next-gen Heartect platform made of high tensile steel body."

12:17 (IST)

The all-new Swift is first car to be launched at the Maruti Suzuki Arena

12:16 (IST)

"Over 50 percent of Swift buyers are first time car buyers"

12:16 (IST)

"Red is the colour of performance" says RS Kalsi remembering the launch of the earlier Swift model.

12:14 (IST)

RS Kalsi takes to the stage at the Auto Expo 2018

"We did not launch car we launched a whole new category"

12:12 (IST)

And the launch of the most important car at the Auto Expo 2018 begins!!

11:53 (IST)

While we wait for the Maruti Suzuki Swift to launch. Here's a closer look at the Aprilia Tuono 150 and the Tuono 150 RS to keep you busy!

Next stop is the Maruti Suzuki stand for the launch of the much-awaited Swift

11:35 (IST)

This beautiful Aprilia 150 RS is going to compete with Yamaha's R15. Boy does it look good!

Cleveland CycleWerks announces the Ace Cafe 250, Ace Deluxe 250, Ace Scrambler 250 and the Misfit, which is our favourite!

The Emflux One has a stunning profile!

10:48 (IST)

EmFlux one launches its first electric superbike in India.

The EmFlux One will be priced at Rs 6 lakhs with fully-kitted model going at Rs 11 lakhs!!!

To recall, Mercedes-Benz had one of the most expensive vehicles on the Auto Expo show floor yesterday when it launched its Maybach S650

​Read all about it here: ​Auto Expo 2018: Mercedes Benz launches flagship Maybach S650 at a starting price of Rs 2.73 crore

Next up on our list for Day 2 is Emflux Motors.

Emflux is an electric vehicle manufacturer… from India.

And they are expected to show case their first electric superbike that should go from 0 – 100 Kmph in 3 secs!!!

On our list of launches today is Cleveland CycleWerks. And they make some vintage motorcycles like this.

Drool over this Kawasaki Ninja H2 SX SE sports tourer

You can read all about this beauty and its sibling by clicking the link below

Auto Expo 2018: Kawasaki launches Ninja H2 SX, H2 SX SE with prices starting from Rs 21.80 lakh
While Day 1 at the Auto Expo 2018 took off with a bang yesterday with automakers announcing and launching new and existing vehicles for the Indian market, Day 2 is expected to keep the momentum going.
Yesterday saw the launch of quite a few concept vehicles from established brands like Tata Motors, Maruti Suzuki while new others who have yet to step into the Indian market, like Kiahad something exciting to show off at their respective stands as well.
While the Auto Expo is usually a place to showcase upcoming vehicles from a particular automotive brand, the four wheeler segment saw a launch by Hyundai Elite i20 and a few others in the two wheeler segment by Kawasaki Motorcycles.
Day 2 at the Auto Expo will see some more launches by Maruti Suzuki for the four wheelers, while UM Motorcycles will stand up for the two wheelers.
The Auto Expo 2018 will also be inaugurated officially today with the access to the general public opening from 9-14 February.