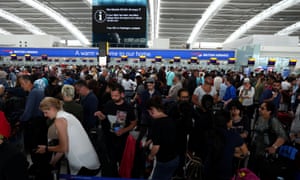 British Airways passengers are facing a third day of disruption at Heathrow as the beleaguered airline continues to deal with the fallout from a computer crash.
Both Heathrow and Gatwick have warned Bank Holiday travellers that they should check the status of their flights before travelling to the airports on Monday where scenes of chaos unfolded over the weekend.
However, BA said that it would run a full schedule at Gatwick on Monday and it intended to operate a full long-haul schedule and a "high proportion" of its short-haul programme at Heathrow.
The airline, whose boss Alex Cruz has apologised for the disruption, said it was continuing to make "good progress" in recovering from the worldwide IT glitch that grounded scores of planes, leaving thousands of passengers stranded.
An airline spokeswoman said: "We operated a full schedule at Gatwick on Sunday. At Heathrow, we operated virtually all our scheduled long-haul flights, though the knock-on effects of Saturday's disruption resulted in a reduced short-haul programme.
"As our IT systems move closer to full operational capacity, we will again run a full schedule at Gatwick on Monday and intend to operate a full long-haul schedule and a high proportion of our short-haul programme at Heathrow.
"We apologise again to customers for the frustration and inconvenience they are experiencing and thank them for their continued patience."
Travellers spent the night sleeping on yoga mats spread on terminal floors on Saturday after BA cancelled all flights leaving the London hubs, while disruption continued into Sunday with dozens more services from Heathrow axed.
The IT outage had a knock-on effect on BA services around the world, while passengers who did get moving on the limited number of flights to take off from the UK reported arriving at their destinations without their luggage.
The disruption also hit transport systems on the ground, with hundreds of travellers flooding London's Kings Cross station in hope of boarding a train north instead.
Experts predict the knock-on effect could continue for several days and BA is facing huge compensation costs, with reports suggesting the bill could top £100m.
[Source"timesofindia"]