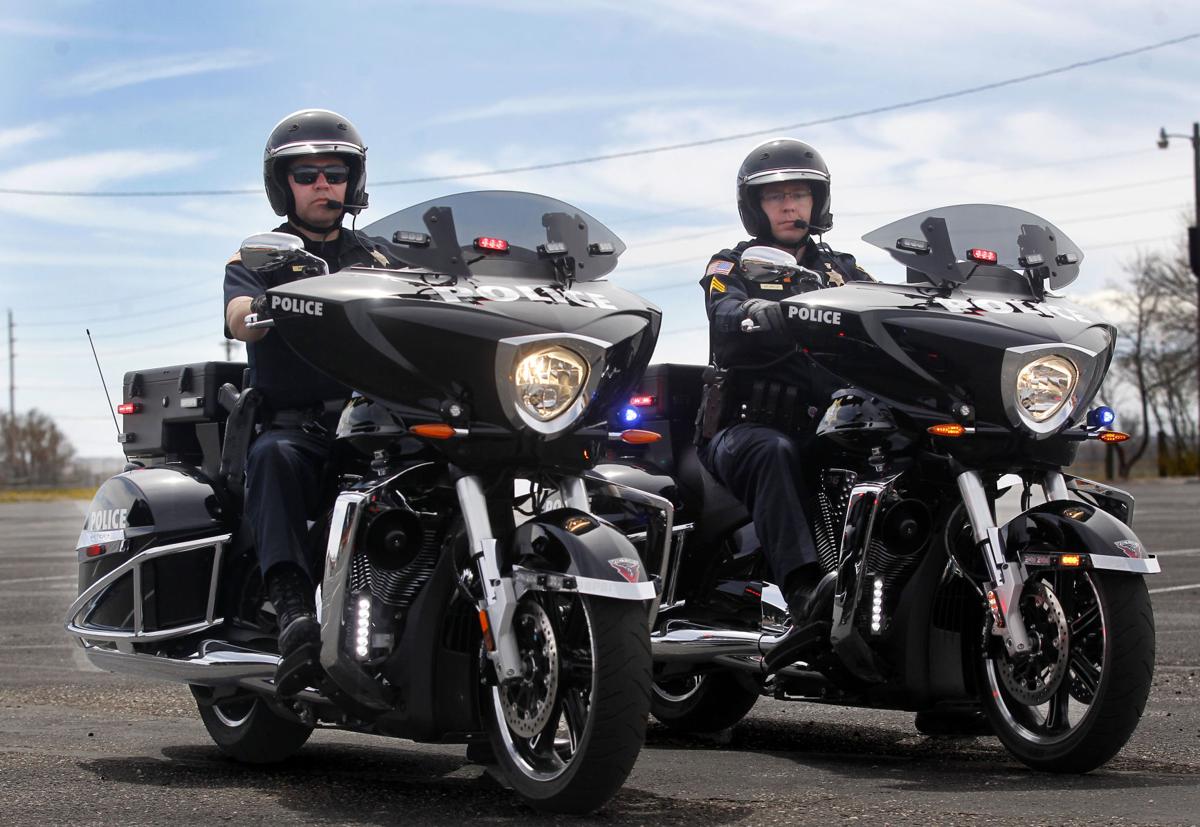 CHEYENNE – As warmer weather tries to make its way into the southeast Wyoming forecast more often, the Cheyenne Police Department is excited to have its officers patrolling city streets on brand-new motorcycles.
Sgt. John Gay and Officer Justin Monnett helped drive the fleet of four shiny black motorcycles to Cheyenne from Victory Police Motorcycles in Tucson, Arizona, back in November.
The bikes replaced CPD's three 2009 Harley Davidson Road Kings.
They offer officers more comfort and safety, which in turn provides for better policing, said Gay, who supervises the department's traffic division, in a recent interview.
"They are invaluable tools," Gay said. "From an officer safety perspective – from just the equipment that's on these bikes – it shows that obviously the department is thinking about our officers' safety."
For starters, the new motorcycles have foot plates that do not fold up, which prevents foot and ankle injuries from happening when the bike is crashed or making a hard turn.
"We have both basically crashed a motorcycle (in training) and been able to continue to ride," Monnett said.
"So where the Harleys would, we called it turtle – they would go all the way on its side and you would have to get off, pick it back up – (on the Victorys) we've come to basically a stop on the side using the skid plates and the floorboards that don't fold up and been able to clutch and throttle and just ride out of it."
Police Chief Brian Kozak said "these are designed to be more durable in the way that you can lay them down and it doesn't affect the motorcycle."
The department's previous motorcycles were used more for ceremonial purposes, but the new bikes are designed to be used for enforcement, Kozak explained.
"Something I wanted to see was to have our traffic unit actually be on motorcycles and to use the bikes for enforcement," he said.
The new motorcycles also feature additional and brighter lights, as well as a sheet of bulletproof metal on the bottom of the bike for extra protection.
"If we find ourselves in a really bad situation, we can just stop the bike, lay the bike down on its side, and we can get behind the motorcycle and actually have that steel (to hide behind)," Gay said.
Additionally, the new motorcycles came with side storage for a working printer to print out tickets, and a rifle rack.
"We can actually bring our patrol rifles with us now when we're riding the motorcycles and essentially act as a more or less fully equipped, ready-to-go officer," Gay said.
The four motorcycles cost the city $116,816, or roughly $29,200 each.
CPD spokesman Sgt. David Janes said the cost came in at less than Harley Davidson motorcycles would have been had they been outfitted with all the extras that came with the standard police motorcycle package from Victory.
The bikes came with a five-year warranty and 10-year promise for part supplies.
And the department plans to save the city money by having officers perform much of the motorcycle maintenance on their own at the new Public Safety Center – which the factory has trained them to do.
Gay said the motorcycles are a great tool to have now that the department is focusing on traffic enforcement to reduce crashes at certain intersections.
"Dell Range and Converse, for example: There's really no good place for a police car to sit in that area to watch the intersection," he said. "Motorcycles allow us to get places without interfering or obstructing traffic as much as with a regular police car."
One of the department's 2017 goals is to reduce speed-related traffic crashes at designated locations by 50 percent.
A 2016 goal was to reduce traffic crashes at designated locations by 20 percent. Crashes ultimately were reduced in those areas by an average of 30 percent.
The locations were Yellowstone Road and Carlson Street, where there was a 33 percent reduction in crashes; Yellowstone Road and Dell Range Boulevard, where there was a 31 percent reduction in crashes; Dell Range Boulevard and Ridge Road, where there was an 8 percent reduction in crashes; and Dell Range and Converse Avenue, where there was a 40 percent reduction in crashes.
"Traffic enforcement, all aspects of it, truly is important for the overall safety of the traffic," Gay said.
Monnett said the motorcycles also are great conversation starters that help with community policing.
"We get compliments on them all the time," he said.
"I had a guy on Dell Range yesterday or the day before – I had to scold him slightly about his speed to catch up to me – but he was like, 'Oh, I just wanted to get a look at that bike,'" he continued.
"It definitely helps with community policing and contacting (people). Kids love motorcycles, and they like seeing cops on motorcycles. It's a way for us to engage."
In addition to the new motorcycles, the department is looking forward to having 20 new police vehicles by the end of the summer, CPD spokesman Officer Kevin Malatesta said.
Malatesta said the 16 new patrol vehicles and four new detective vehicles are replacing some of the department's high-mileage, high-maintenance Crown Victorias, which have an average model year of 2006.
The average patrol car receives 25,000 miles per year, with those miles being rougher than on the average family vehicle because many hours are spent idling, he said.
The 16 new patrol vehicles will be SUV-style Ford Police Interceptors, as the department is moving toward having all SUVs in its fleet.
Currently, the department operates with a mixture of Ford Taurus vehicles and the SUV-style Police Interceptors.
The four new detective vehicles are going to be Ford pickup trucks to aid detectives as they serve search warrants and respond to some of the more rural areas in the county, Malatesta said.
The 20 new police vehicles have a price tag of about $835,000 and are expected to be ready by August.
Malatesta said the cost includes the vehicles, as well as between $8,000 to $13,000 for each vehicle to become a police vehicle equipped with lights, radio, vehicle dividers, computer and rifle mounts, radar, decals and more.
["Source-wyomingnews"]