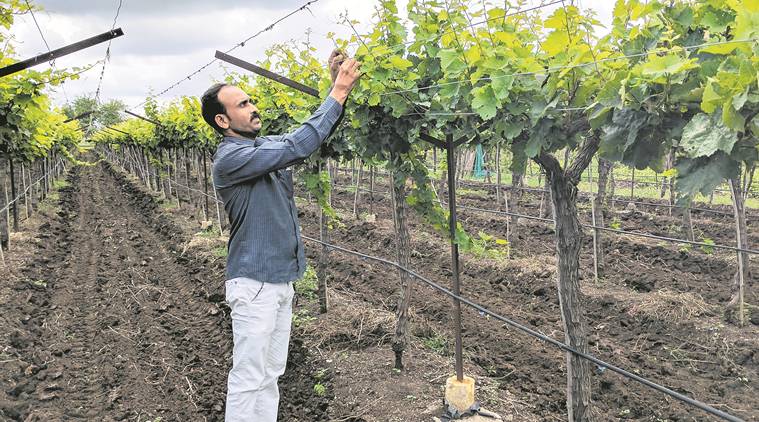 Grape farmer Santosh Gorade at his vineyard in Niphad near Nashik, Maharashtra. (Source: Express photo by Partha Sarathi Biswas)
Last kharif, the Nashik District Central Cooperative Bank (NDCCB) disbursed  Rs 1,608.55 crore of crop loans during April-June, exceeding its target of Rs 1,257.18 crore. This season, however, it has given out a mere Rs 61.41 crore as on June 27, way below even a lower target of Rs 1,101.05 crore.
NDCCB could be an extreme case of a beleaguered cooperative bank. But across Maharashtra, total kharif crop loan disbursements by DCCBs have been just Rs 5,707.42 crore from April to June 27 this year. That is barely 55 per cent of the Rs 10,451.77 crore lent out during April-June 2016.
The above collapse of cooperative credit is an ongoing story of Maharashtra's agriculture, at a time when waiver of past loans is what's grabbing the headlines. And its effects are being felt right now in the fields, as kharif agricultural operations gather pace with the state receiving 13 per cent above-normal monsoon rains so far.
For Santosh Garade, between May and the month almost ending, there should have been at least four rounds of pruning (removal of thread-like tendrils growing from the main branches) at his four-acre vineyard. But this grape farmer from Takli village in Nashik district's Niphad taluka hasn't managed to do a single pruning — necessary for the crop's proper flowering from September-October, followed by fruit development and harvesting towards February-March.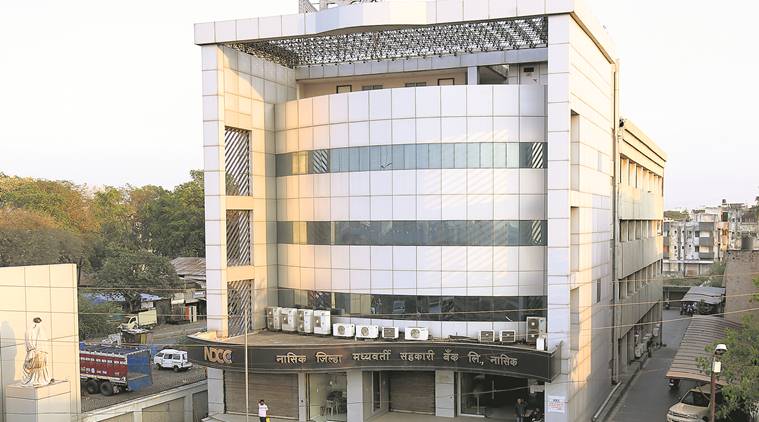 The beleaguered Nashik District Central Cooperative Bank. (Source: Express photo by Partha Sarathi Biswas)
"My total investment requirement during May-July, for six rounds of pruning along with application of fertiliser, fungicide and micronutrients, is about Rs 50,000 per acre. I am unable to raise that working capital today from either NDCCB or Bank of Maharashtra. And I have no money of my own left," says Gorade.
The 34-year-old suffered huge losses from his 2016-17 grape and onion crops grown on four acres and two acres, respectively. The 70-quintals average yield from onions, which fetched Rs 300 per quintal, did not cover his cultivation cost of Rs 35,000 per acre. Gorade's vineyard, likewise, yielded 60 quintals of grapes per acre. At Rs 15/kg, there was no way his investment of Rs 2 lakh per acre could even be recovered, leave alone generate a return.
The credit crunch that farmers like Gorade are experiencing — that too, in what looks to be a good monsoon year — comes even as the Maharashtra government has come out with a Rs 34,022-crore loan waiver scheme. The Devendra Fadnavis administration's decision to waive individual farm loans of up to Rs 1.5 lakh taken from cooperative and commercial banks — plus the direction given to extend Rs 10,000 in cash as an immediate advance — does not radically alter the picture.
"The loan waiver is of no use to me, as I have outstanding dues of Rs 4 lakh with the Bank of Maharashtra," notes Gorade. Nor does a Rs 10,000 cash loan help somebody growing a crop entailing much more investment than bajra (pearl millet) or soyabean. Gorade is, moreover, not eligible to receive this special loan, since the Reserve Bank of India (RBI) is yet to give the nod for extending it to defaulting farmers.
Gorade is planning to mortgage his tractor to obtain credit from private moneylenders. "If I am a defaulter with Bank of Maharashtra and the NDCCB has no money to lend, what option does a farmer like me have? My immediate priority is to somehow ensure a decent grape crop and hope for better prices. In 2014-15 and 2015-16, I realised Rs 60-70 per kg, but both were drought years. Last year's crop was good, but prices crashed," he adds.
In the neighbouring village of Kotamgaon in Niphad, Sanjay More has mortgaged his wife's jewellery to borrow money for sowing soyabean and maize on his two acres. More has an outstanding loan of Rs 70,000 from the NDCCB. The Rs 1.5 lakh waiver should technically make him free from institutional debts. But the problem is that the NDCCB itself has no money to lend now. "In the last two years, I have taken loans totalling Rs 1 lakh from moneylenders. I have had to knock at their doors this time as well. The loan waiver has no meaning for me," he points out. Like Gorade, More's hopes are pinned on a good crop — and better prices.
For most Maharashtra farmers, drying up of institutional finance for kharif farming operations is what's really hurting, even while political and media attention is on loan waivers. At the start of every crop season, farmers avail of short-term crop loans from commercial and cooperative banks. These are extended at a subsidised interest rate of 7 per cent interest, and go towards purchase of seed fertiliser and pesticides, and also paying for labour.
For the current kharif season, Maharashtra has set a crop loan target of Rs 40,547.20 crore, of which Rs 24,985.01 crore is to come from commercial banks, Rs 13,108.38 crore from DCCBs and the balance Rs 2,453.82 crore from regional rural banks. The cooperatives are the ones that reach out to small and marginal farmers, with their average loan size being much less compared to that of scheduled commercial banks.
The current credit crunch is largely about DCCBs — their inability to lend, particularly after demonetisation. Just three days after the November 8 decision to withdraw all existing Rs 500 and Rs 1000 denomination currency, these banks were barred by the RBI from both accepting and exchanging the outlawed notes. The official reason given was that they did not have fool-proof KYC (know-your-customer) verification systems in place, making them potential avenues for illicit cash deposits.
As a result, the DCCBs in Maharashtra alone were saddled with Rs 4,311.79 crore of old notes deposited during the three days, which they couldn't exchange for new re-monetised currency. The NDCCB alone had Rs 342.60 crore of such notes. "If we could neither exchange the old notes nor earn interest on those deposits, from where was the money to come for disbursal of fresh crop loans?", asks Narendra Darade, chairman of the bank. The DCCBs were further hit because of farmers not being able to repay loans following the price crash across crops — for which, too, Darade laid the blame on demonetisation. On June 20, the Union government finally announced that cooperative banks would be allowed to exchange the demonetised notes with the RBI. But the latter is yet to issue directions to DCCBs on the modalities of such exchange.
The ultimate loser from all this has been the farmer, who suffered from low prices following demonetisation. Now, he is suffering from an unprecedented credit crunch even in a normal monsoon year.
["Source-indianexpress."]