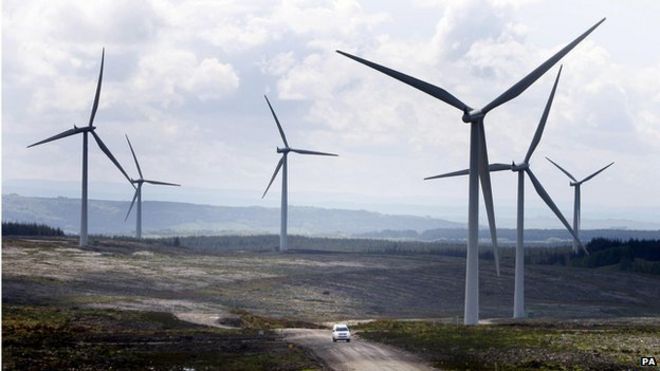 New onshore wind farms will be excluded from a subsidy scheme from 1 April 2016, a year earlier than expected.
There will be a grace period for projects which already have planning permission, the Department of Energy and Climate Change said.
But it is estimated that almost 3,000 wind turbines are awaiting planning permission and this announcement could jeopardise those plans.
Energy firms had been facing an end to generous subsidies in 2017.
The funding for the subsidy comes from the Renewables Obligation, which is funded by levies added to household fuel bills.
After the announcement was made, Fergus Ewing, Scottish minister for business, energy and tourism and member of the Scottish parliament, said he had warned the UK government that the decision could be the subject of a judicial review.
"The decision by the UK government to end the Renewables Obligation next year is deeply regrettable and will have a disproportionate impact on Scotland, as around 70% of onshore wind projects in the UK planning system are here," he added.
'Energy mix'
The move was part of a manifesto commitment by the Conservative party ahead of the general election in May.
"We are driving forward our commitment to end new onshore wind subsidies and give local communities the final say over any new wind farms," said Energy and Climate Change Secretary Amber Rudd.
"Onshore wind is an important part of our energy mix and we now have enough subsidised projects in the pipeline to meet our renewable energy commitments," she said.
The Conservatives also say that the onshore turbines "often fail to win public support and are unable by themselves to provide the firm capacity that a stable energy system requires".
Gordon MacDougall, managing director of Renewable Energy Systems, a Sir Robert McAlpine Group company, told the BBC that "what we are seeing is political intervention".
And he criticised the intervention in what he says is the cheapest form of low-carbon energy.
The grace period could allow up to 5.2 gigawatts (GW) of wind capacity to go ahead, which could mean hundreds more wind turbines going up across the UK.
[SOURCE- "bbc.com"]