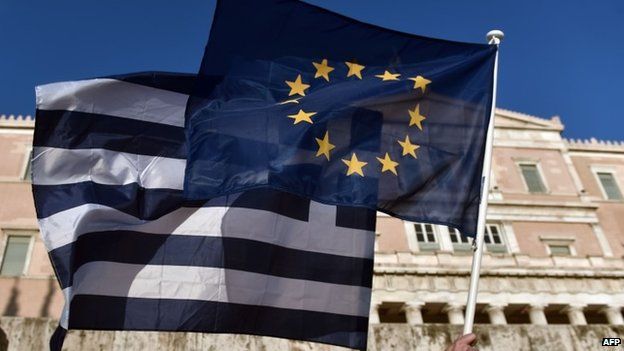 The Times reports that 2bn euros in deposits have already been taken out of the country in the first three days of this week.
Tourists heading to Greece, where two million Britons visit each year, have been warned to take cash in case of emergencies, it says.
"The deteriorating situation will lead to fears of strikes or protests, for which airlines do not usually compensate passengers," says the Times.
The Telegraph says the breakdown of talks prompted renewed concern that the single currency is about to fragment.
As the Guardian's Larry Elliott writes: "Greece knows it. The International Monetary Fund knows it. Every European finance minister knows it.
"After the latest failure to secure a deal at the meeting of finance ministers in Luxembourg, the crisis is coming to a head. And soon."
The Independent raises the prospect of Athens looking towards Russia for salvation.
"For President Putin a Greek alliance is advantageous," it says. "He has been courting leaders in other EU states as he has come under pressure from financial sanctions over his military intervention in Ukraine.
"Some have spoken of the possibility of a Russian 'fifth column' being created in the EU, beholden to the Kremlin."
The paper's foreign editor David Wastell says Mr Putin is ready to exploit a potential split in the EU.
"It may be true that Greek ministers are not asking Russia for a bailout, as officials insist," he writes.
"But the possibility that Mr Putin might assist Mr Tsipras – perhaps persuading Greece to block EU sanctions on Russia – is a small foretaste of the fallout to come."
["source-bbc.com"]