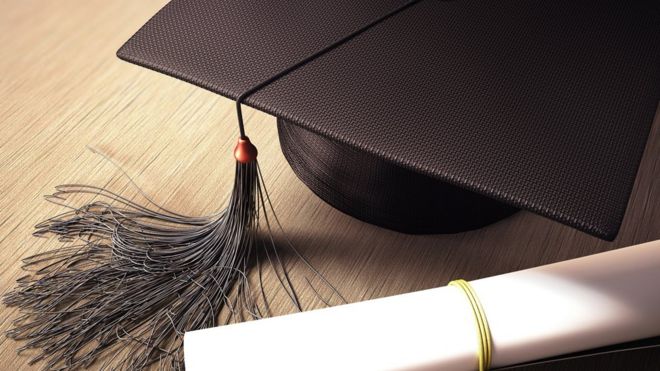 Gypsies and travellers may traditionally have the fewest qualifications of any ethnic group in England and Wales, but those going to university in Pembrokeshire say the younger generation is bucking that trend.

"What do you want to learn for? You're not going to make anything of your life."
That was the attitude Leeanne Morgan said she faced from teachers as a young Gypsy child at infant school in the West Midlands.
"Their idea of traveller education was giving you pictures of horses and wagons and chickens to colour in," she said.
Now aged 41 and living in a house in Monkton, Pembrokeshire, she is about to start her third year of a foundation degree in inclusive studies for teaching assistants, run by the University of Wales Trinity St David (UWTSD).
According to the course leader, at least nine women from a Gypsy or traveller background have been on the programme and gone on to achieve their full BA degree in the past four years. Two more are currently studying on the course.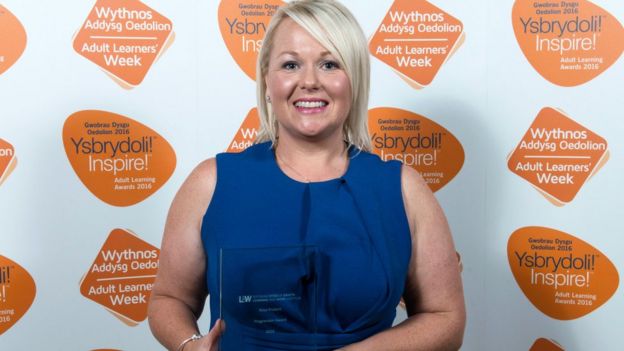 One of those who did particularly well is single mother and carer Rose Probert, who achieved a first-class degree and went on to get a distinction in her postgraduate certificate. She now manages the special needs unit at Pembroke School.
The 40-year-old was recognised for her achievements in the 2016 Inspire! Awards.
"I come from a Gypsy and traveller community so, obviously, education is very rare in that ethnic minority community," she said.
"But when I did my degree course, three of us were from the travelling community. There are more people these days wanting an education, a good job, to make their family proud.
"For me, I did it for the achievement and to be a positive role model for my daughter who's 11."
Ms Probert said she had a full-time primary education, but did not do well at secondary school.
"I wasn't badly behaved, I just didn't have the drive to succeed and excel as much as my peers because I didn't have the backing of my family," she said.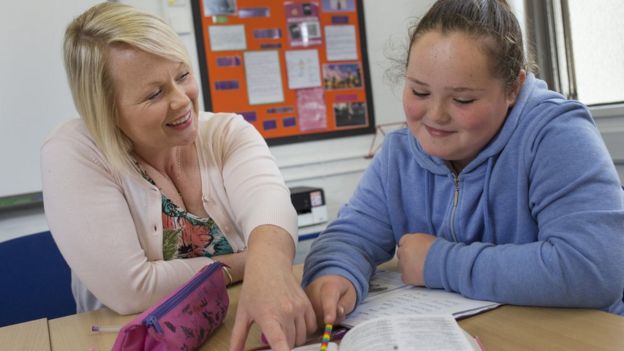 "I've got a disabled brother and all the focus was on him. He needed a carer. My mum was a single parent and I also had a younger brother."
Needing to stay home to help the family was one of the issues raised in a report by Travelling Ahead, a Welsh project working with young people and families from Gypsy, Roma and traveller communities.
The report also found more than half of the 50 young people surveyed felt they were treated differently at school, and some said their parents thought they would learn "bad things" there.
But Ms Probert said her community had been very supportive of her going back into education.
"They could see I was doing it, so why couldn't their son or daughter achieve the level I was achieving," she said.
"Mum couldn't quite understand it though, she's from an older generation. I was the first one to graduate from our family."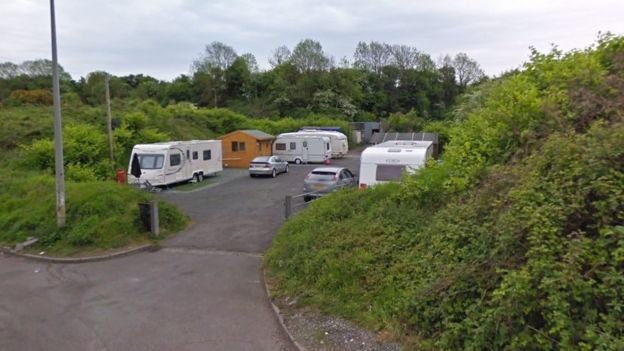 Traditionally, Gypsies and travellers have had greater barriers to education, sometimes due to the nature of their lifestyle, with them often on the move.
But while there are still more than 900 Gypsy and traveller caravans in Wales, the 2011 Census showed that 62% of Gypsies and travellers lived in a house or bungalow.
Outside of Cardiff, Pembrokeshire has the biggest Gypsy and traveller population in Wales and the council said 40 households from that community were now living in "bricks and mortar".
"A lot of the older ones used to travel a lot, there were a lot of farm workers outside the community rather than being settled," said Ms Probert.
"Now the children are saying 'we want to go to school and try to be better', they've got voices, whereas before they were told 'you're doing this, you're coming with us'.
"They're breaking free of tradition which, as long as they keep their morals, can be good sometimes."
Leeanne Morgan, who lived in a caravan until six years ago, agreed.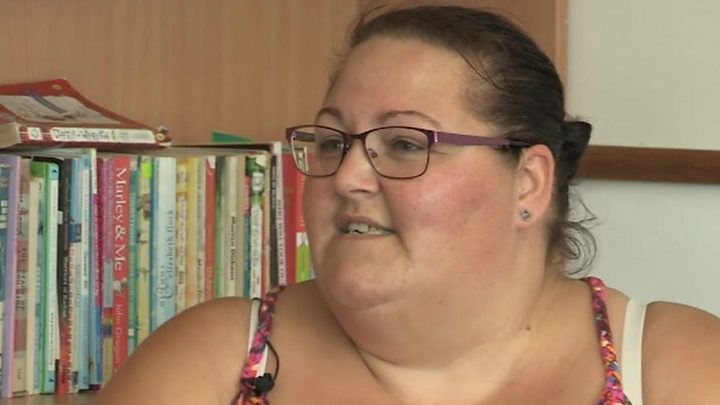 She said: "It's not as easy to travel any more anyway. There are more settled sites. The old ways, the work isn't there like it was years and years ago. People are more settled and it is easier.
"Your kids are in school and they've got a settled routine, rather than 'we're going to go here for this many weeks and then we're going to go here'.
"A lot of schools do allow children, if there's a cultural fair like Appleby or Stow, to have that time off to go because obviously it's their culture."
Leeanne said she struggled at secondary school, where she said she was bullied, and left aged 16 having "barely passed" her GCSEs.

Facts and figures
According to the 2011 Census, 62% of Gypsies and travellers in Wales had no qualifications and 7% had a Level Four qualification, such as a Bachelors degree or higher
Between 2013 and 2015, only 15.5% of pupils from Gypsy and Gypsy Roma backgrounds achieved five or more GCSEs at grades A*-C – compared with 56% of all pupils
Figures released in January, however, showed that had risen to 24.4%
In February, the Welsh Assembly's education committee warned there was a lack of effective monitoring of a grant designed to help some of the lowest achieving children including Gypsies, Roma and travellers.
Another report, published by think tank LKMco in July, found young people from Gypsy, Roma and traveller backgrounds were estimated to be 10 times less likely to go to university compared to peers

Ms Morgan said she only became interested in education again about five years ago after getting involved with Pembrokeshire council's Unity Project, which aimed to enable Gypsies and travellers to access and develop services.
When funding for the project ran out, she heard about the degree course at UWTSD but was "very sceptical" about her ability to do it.
"It wasn't until I started that I realised how much it had affected me, with teachers not giving you the full support [at school]. I turned back into a 10-year-old schoolgirl again, crying and shaking," she said.
"My mum always wanted me to go to school because she never went. She said there's nothing worse than having a letter and thinking 'what does it say?'
"Our children today can see that the old ways aren't there any more, they understand that they have to get a job if they want the good things in life."
Cindy Hunt, the university's BA Inclusive Education director, said the success of the programme was down to going out to the communities themselves for twilight sessions and on weekends.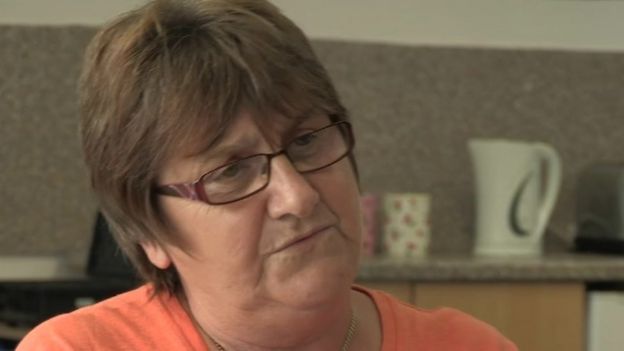 "We come out to them, to their domain, in their own time, because nobody can afford to give up work today but they want to learn as well. They don't feel intimidated," she said.
The students are also offered free creche facilities.
"The pastoral care and support is immense because a lot of these individuals haven't got the confidence, they haven't been in education for many years," Ms Hunt added.
"It's a lovely journey that you see in the three years, from when they first started… to standing in front of a classroom doing a presentation."
The classes take place at Monkton Priory Community Primary and Ms Hunt said the school took her students in on work placements.
"If they're successful, many have been employed by the school. It's a knock-on effect then," she said.
"We're not here to judge them, we're here to help them get on in life."
A Welsh Government spokesman said it believed in "an inclusive education system that delivers for all of our communities".
"We are working to improve educational attendance and attainment rates for Gypsy and traveller learners and continue to monitor progress," they added.
"In addition, our publication Travelling Together and the Gypsy, Roma and Traveller guide to promoting equality in schools aims to make the curriculum more relevant to pupils from these communities and support teachers to settle these pupils in school."
["Source-bbc"]