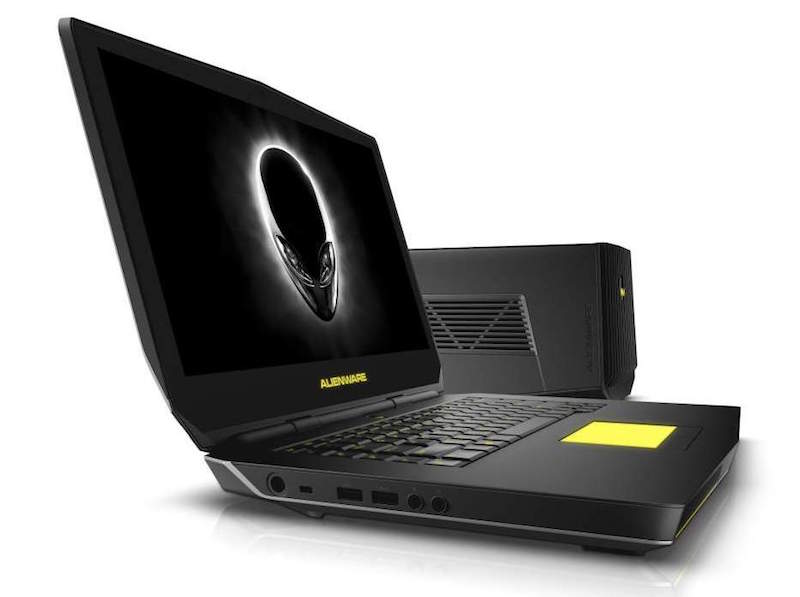 If you're looking for a high-end, small form-factor gaming laptop, you will want to check out Alienware's latest offering. The Dell-owned brand has launched three new gaming laptops in its 13, 15, and 17 lineups. Parent company Dell has also refreshed the X51 desktop. The company also brought back its discontinued Alienware 18 line of laptops.
The new laptops come with the latest processors from Nvidia and Intel, and two-dozen changes including support for USB Type-C 3.1 port, PCI-Express SSDs, and company's own external graphics card – the Graphics Amplifier. All the laptops run Windows 10, and offers support for Windows 8.1.
Starting with the Alienware 13, the laptop comes with a 13.3-inch TN (twisted nematic) display of screen resolution 1366×768. Users also have an option to choose from 1920×1080 pixel IPS, and 3200×1800 pixel IGZO IPS displays. On the processor front, there is an option to pick between Intel Core i5-5200U dual-core clocked up to 2.7GHz and Intel Core i7-5500U dual-core clocked up to 3.0GHz, coupled with NVIDIA GTX 960M 2GB GPU. For memory, there is an option between 8GB DDR3L to 16GB DDR3L (1600MHz). Other features include 500GB 5400RPM Hybrid drive (with an option to upgrade up to 512GB PCIe SSD plus 128GB mSATA). The base model starts at $999 (roughly Rs. 63,000).
The Alienware 15 is the company's 15-inch laptop. With the base model starting $1,199.99 (roughly Rs. 79,000), it sports a 15.6-inch FHD display (1920×1080 pixel), with processor range between Intel Core i5-4210 dual-core clocking up to 3.5GHz, to Intel Core i7 Intel Core i7-4870HQ quad-core clocking up to 3.7GHz. Other features include memory option between 8GB and 16GB DDR3L(1600MHz) RAM models. It comes coupled with graphics card offering from Nvidia between its top of the line GTX 965M (2GB) and 980M (4GB), and AMD Radeon R9 M395X (4GB), and storage options ranging between 1TB 7200RPM HDD and 1 TB PCIe SSD boot drive plus 1TB HDD.
The Alienware 17 comes with a 17.3-inch display with resolution option between 1920×1080 IPS matte and 3840×2160 IGZO IPS matte. As for the processor, users get a choice between Intel Core i7-4720HQ quad-core clocking up to 3.6 GHz and Intel Core i7-4870HQ quad-core clocking up to 3.7 GHz, and GPU choices between Nvidia's GTX 970M (3GB), and GTX 980M 4GB. Memory and storage options remains the same as the Alienware 15. The base Alienware 17 model starts at $1499 (roughly Rs. 99,000).
More excitingly, the Alienware 18, the company's most powerful laptop to-date, is making a return. The company has launched a "special edition" of the laptop riddled with some of the most heavy hardware gears possible. The 18.4-inch FHD display, in the laptop comes coupled with the 4th-generation Intel Core i7 SoC clocking up to 4.4GHz. Also comes in a choice of either of 16GB or 32GB DDR3L (1600MHz) RAM, and dual Nvidia GeForce GTX 970M (6GB) or GTX 980M (8GB ) GPUs in SLI configuration. It starts at $2,499, and goes up to $4,649.
Alongside the three new laptops, Dell has also launched a refreshed version of its top-of-the-line Alienware desktop. The Alienware X51 comes in a choice of a Intel Core i5-6600K quad-core clocking up to 3.9GHz, or Intel Core i7-6700K quad-core clocking up to 4.4GHz. Other features include memory option between 8GB and 16GB DDR4 RAM models, and Nvidia's GTX 745 (4GB) and GTX 960 (2GB), and storage option between 1TB 7200RPM HDD, 2TB 7200RPM HDD, and 256GB SATA SSD plus 1TB 5400RPM HDD Hybrid. The X51 offers an optional liquid cooling, which comes attached to a unit with a fan and heat-dissipating liquid in tubes to the motherboard and processors.
["source-gadgets.ndtv"]