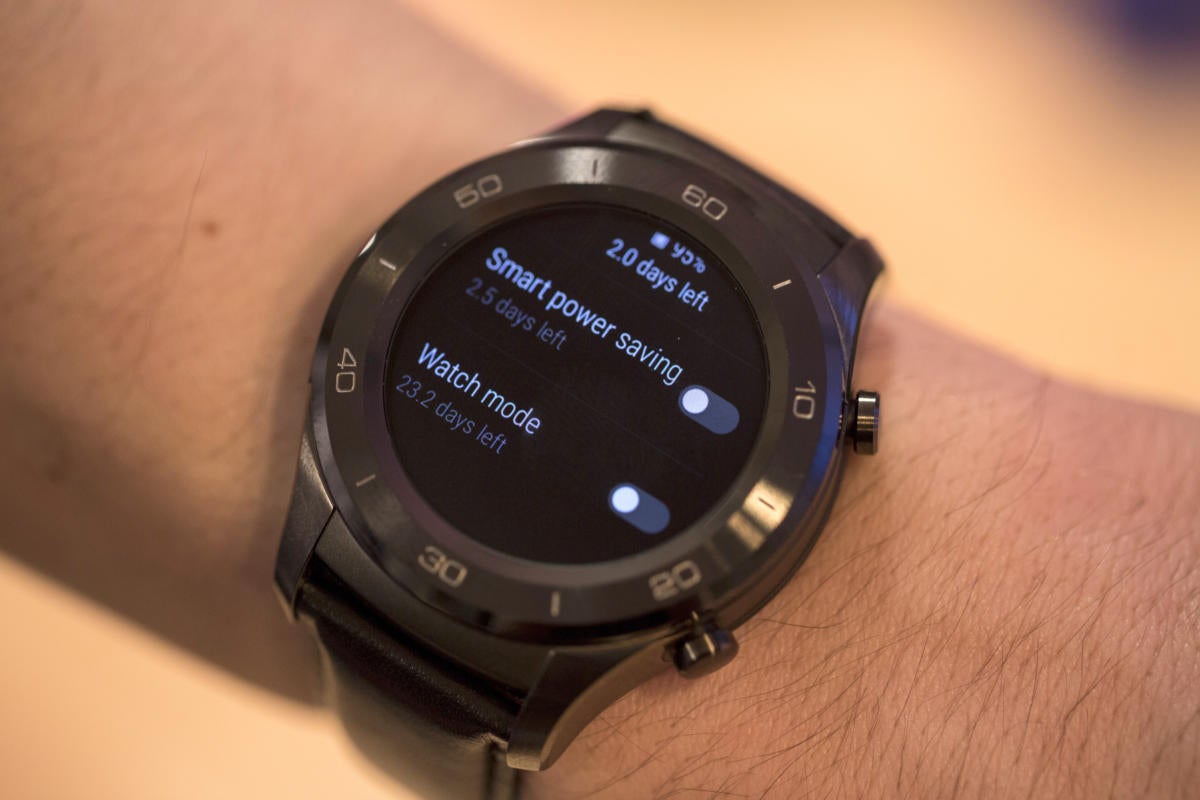 Barely three months into its official release, Android Wear 2.0 should still be enjoying its honeymoon period. But the truth is, it never really had one. Despite a high-profile launch and pent-up anticipation among Android enthusiasts, the roll-out has been less-than-stellar, with few manufacturers supporting it with new models, and most older watches unable to take advantage of the best features.
And the Huawei Watch 2 doesn't do too much to change that narrative. The model I tested, the Classic, is the classier of the two models, with stainless steel accents, a buttery-smooth leather band, and a posh gray face. But even in an extremely small pool of Android Wear 2.0 watches—the LG Sport and Style are the only new 2.0 models—the latest Huawei Watch just doesn't do enough to stand out.
And that's surprising. There was an understated elegance to the original Huawei Watch that made it feel less like a tech product and more like a fashion statement. With the Watch 2 Classic, Huawei has built a very nice follow-up, and most companies would be proud to call their own. But while there are plenty of good things here that certainly improve upon the original Huawei Watch, strapping on the sequel just doesn't generate the same level of excitement.
It's a shame because Huawei is one of the few tech brands that understands how to make a good watch.
Big and bold
At 12.6 mm thick, the Huawei Watch 2 isn't terribly bulky, but it is noticeably chunkier than the original model. For comparison, the original Huawei Watch was 11.3 mm thick, so it's strange to see Huawei and others continue to add to the size of their watches. Notably, there aren't any "ladies" models this time around, though to be fair they were never all that feminine anyway, bejeweled bezels notwithstanding.
But at least those watches had character. The Huawei Watch 2 might be built to fit a certain taste, but it's mostly just a plain, ordinary watch. Its 1.2-inch display is flanked by an etched bezel with numbers every 10 minutes (and slashes every five), and there's a pair of fairly bulbous buttons along the right edge. Despite having a smaller screen, the whole package is markedly bigger than the original Huawei watch, following in the footsteps of the LG Sport and Samsung's Gear S3 with a wearable that's clearly geared toward athletes and outdoor enthusiasts, and large-wristed ones at that.
Speaking of wrists, the strap on the Classic is particularly impressive. It looks and feels like a high-end leather band, but Huawei has fused it with a rubber underside to make it both comfortable and versatile. It's not stiff like the LG Style's band, or rigid like the sport band on the basic Huawei model. After just a couple days of use, it naturally conformed to the contours of my wrist and required much less adjustment than other smartwatches I've used, including the Apple Watch with its various band options. And if you don't like Huawei's band, you can swap it out with any 22 mm band.
Battery powers
Despite its extra bulk, the Huawei Watch 2 didn't feel heavy or cumbersome on my wrist. And while it's bigger than its predecessor, it's a good deal lighter too, but not at the expense of features. There's a heart rate sensor, barometer, NFC chip, GPS, and IP68 water resistance.
[Source"timesofindia"]