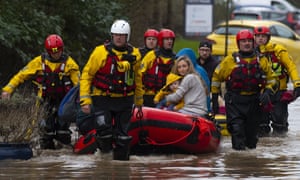 A supercomputer designed to improve extreme weather and climate forecasting is to receive £1.2bn from the UK government towards its development.
The technology will be managed by the Met Office, with more sophisticated rainfall predictions and improving forecasting at airports among its aims.
Data collected by the powerful device will also be used to predict storms more accurately, select the most suitable locations for flood defences and forecast changes to the global climate.
The supercomputer is expected to be the most advanced of its kind dedicated to weather and climate in the world.
The Met Office's current supercomputer, which is due to reach its end of life in late 2022, is among the world's 50 most powerful computers, and contains enough storage to hold more than 100 years of HD films.
"This investment will ultimately provide earlier, more accurate warning of severe weather, the information needed to build a more resilient world in a changing climate and help support the transition to a low-carbon economy across the UK," said Prof Penny Endersby, the Met Office's chief executive.
"It will help the UK to continue to lead the field in weather and climate science and services, working collaboratively to ensure that the benefits of our work help government, the public and industry make better decisions to stay safe and thrive."
The government hopes the technology will help communities better prepare for weather disruption such as that from recent storms Dennis and Ciara.
The supercomputer itself is expected to cost £854m, with remaining funds going towards investment in the Met Office's observations network and programme offices, over a 10-year period from 2022 to 2032.
"Over the last 30 years, new technologies have meant more accurate weather forecasting, with storms being predicted up to five days in advance," said Alok Sharma, the business and energy secretary and Cop 26 president.
"Come rain or shine, our significant investment for a new supercomputer will further speed up weather predictions, helping people be more prepared for weather disruption from planning travel journeys to deploying flood defences."
We're living up to our promise…
… to reduce the Guardian's carbon footprint. In service of the escalating climate emergency, we have made an important decision – to renounce fossil fuel advertising, becoming the first major global news organisation to institute an outright ban on taking money from companies that extract fossil fuels.
The Guardian has pledged to give global heating, wildlife extinction and pollution the urgent attention and prominence they demand. That means changing the way we do our own business. In addition to turning down fossil fuel advertising, we've committed to becoming carbon-neutral by 2030 and divesting our Scott Trust endowment fund, which funds our journalism, from fossil fuel investment. The climate issue is the defining issue of our lifetime, and we realise the need to walk the talk in order to make a real difference.
You've read 208 articles in the last four months. We chose a different approach: to keep Guardian journalism open for all. We don't have a paywall because we believe everyone deserves access to factual information, regardless of where they live or what they can afford to pay.
Our editorial independence means we are free to investigate and challenge inaction by those in power. We will inform our readers about threats to the environment based on scientific facts, not driven by commercial or political interests. And we have made several important changes to our style guide to ensure the language we use accurately reflects the environmental emergency.
The Guardian believes that the problems we face on the climate crisis are systemic and that fundamental societal change is needed. We will keep reporting on the efforts of individuals and communities around the world who are fearlessly taking a stand for future generations and the preservation of human life on earth. We want their stories to inspire hope.
We hope you will consider supporting us today. We need your support to keep delivering quality journalism that's open and independent. Every reader contribution, however big or small, is so valuable.
["source=theguardian"]