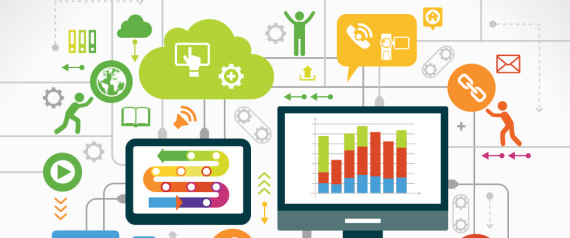 Someone sees a tweet from Emma Watson about International Women's Day and clicks the link. Another person watches her speak at the UN on his or her phone. And a third person participates in an interactive chat with her on Facebook.
These folks may not have realized it, but each was reached by the same PR campaign for HeForShe, a movement for gender equality. Each person found the campaign in his or her own way, but the end result was the same. The message drove each participant to learn more about HeForShe and many took action — and joined the campaign.
The rapidly changing face of communications is daunting. No one wants to miss out on the latest piece of popular technology, but the race to be first can be a pitfall. Business leaders have to realize that their audience is consuming a wider array of media than ever before, and it's the message, not how they consume their news that makes the difference.
As a communications expert, on a daily basis, I work to craft compelling stories on behalf of my clients and identify the most effective channels to distribute that message. Today, all of my campaigns contain a strategic mix of traditional media, social media and original content.
Often, social media gets most of the headlines and an effective social campaign can reach a young, global audience — just look at our work for #HeforShe. Publish a few Facebook posts, knock out some Tweets, and go home for the day, right? If only it was that simple. About 80 percent of brands use social media to reach their audiences, but 68 percent of U.S. consumers say they typically ignore brand posts on social networks.
Jenny Rooney, Forbes CMO Network editor and moderator of a recent panel I participated in, points out that CMOs today are often challenged to measure the effectiveness of their campaigns and demonstrate how marketing is making a real business impact. A challenge that many companies today face is that disciplines work independently and work in silos. Companies are not realizing the total power of their organizations. Often, we work with our clients to foster collaboration and help them to realize the true impact of integrated communications — bringing together the likes of paid, owned and earned media.
That last discipline that I referenced — earned media — often works the most outside of the traditional marketing mix. But what marketers need to know is that this channel can be their secret weapon.
In simple terms earned media cannot be bought or owned, it is "earned" organically. In a recent Nielsen study earned media was found to be the most trusted source of information in all countries it surveyed — worldwide. The same survey also found that earned media is the channel most likely to drive business outcomes — important for today's modern CMO.
Successful original content, on a company's website and blog for instance, is built on the same foundation as earned and social media. Credibility leads to trustworthiness. A product that can be trusted is one that will grow sales, in the same way that a nonprofit campaign will gain engaged stakeholders.
The full power of a communications campaign is unleashed when each of these elements is brought together with a unified goal.
The key lesson here is best summed up by a quote from the founder of my agency, David Ogilvy: "What really decides consumers to buy or not to buy is the content of your advertising, not its form." What was true 50 years ago is just as relevant today.
David Ogilvy knew that customers are smart. Most people see right through a shallow ad and sniff out when a company is trying to sell them a bogus idea. And if they do happen to fall for a misleading ad, it's only a matter of time before a company will suffer a backlash. Long-term success for a brand — 50 years ago, today, or 50 years in the future — always comes down to the power of the message regardless of where and how it's told.
["source-huffingtonpost.com"]