Backing up all your apps on Android is still an arduous task, but that's where the Robin hopes to help. It's a partially crowdfunded smartphone from Nextbit, a company founded by former Android and HTC alums, and its entire goal is to make backing up your applications and photos seamless enough that you don't even think about it.
For the most part, the Robin succeeds at backing up your data, but Nextbit still has a bit of work to do before its Android smartphone is just as preened and polished as those it competes with. And whether that's worth your $400 will depend on how you also feel wielding a smartphone that's still sort of in beta.
The coolest phone you've ever seen
The Robin has an appearance quite unlike any other Android phone. It sports a seriously cool look in a sort of cute and urban, Kid Robot kind of way. I received countless comments about its design from friends, family, and passersby. A few of my WindowsPhone-loving pals even offered a crack about how its design resembles an evolved Nokia Lumia.
From the circular speaker grills on the front to the tiny LED light residing next to the charging port, you can tell that Nextbit's industrial design team paid great attention to even the most minor details of the Robin's chassis. The volume buttons on the left side of thephone make a "clickety" sound, and the power button in the right side features an embedded fingerprint scanner. Left-handers might find it sort of awkward to scan in with an index or middle finger, but I liked being able to unlock the phone from the same button that turns on the screen. The fingerprint scanner is super fast, but you'll have to press the power button and then scan in your finger for it to work, versus a one-touch unlock like the Nexus 6P.
I know the Robin looks like it's sort of painful to hold with its angular edges, but it's not. The phone is actually really comfortable to type on with both thumbs, and it's thin enough so that it doesn't bulk up your pocket. Its 1080p, 5.2-inch IPS LCD display is a good size for reading, too, though I quickly discovered that the Robin's screen doesn't get as dim as much as I would like for reading at night.
The Robin is packed with 32GB of onboard storage, but since Nextbit hopes you'll rely on the cloud backup feature integrated into the phone's software, there is no expansion slot. Your least-used apps and photos will be synced to the cloud, where you have 100GB of space to play with. (We'll get more into the logistics of how all this works a bit later.) The Robin also has NFC, so you'll be able to use Android Pay, and it features dual front-facing speakers with amplifiers. I was impressed with the sound quality of these tiny speakers, though you'll definitely notice the phone straining to keep up if you're bumping anything with too much bass.
Great performance, good battery life
Like the LG G4, the Nextbit Robin runs on a Snapdragon 808 processor with 3GB of RAM. The combination is enough to ensure that the interface runs smoothly and apps load relatively quickly. The Robin is perfectly capable of gaming, too; a 1080p display doesn't strain a Snapdragon 808's GPU too much. It doesn't get scalding hot like otherphones with similar specs, either, even if it's plugged in while you're playing a game.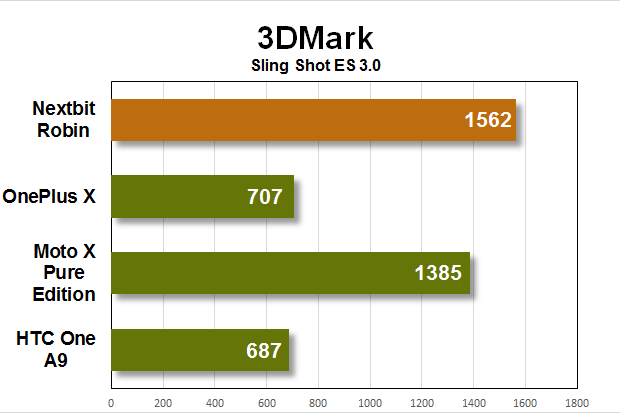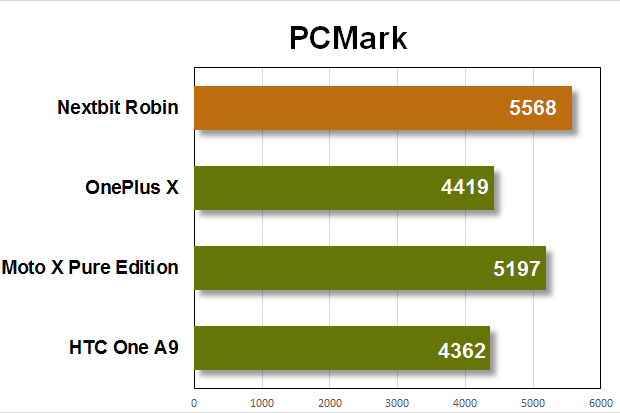 I tested the Robin against similarly-priced smartphones, including the HTC One A9 andMoto X Pure Edition, as well as the cheaper, low-end OnePlus X. Performance wise, the Robin is a pretty safe bet, though you'll see a different story in its battery benchmarks.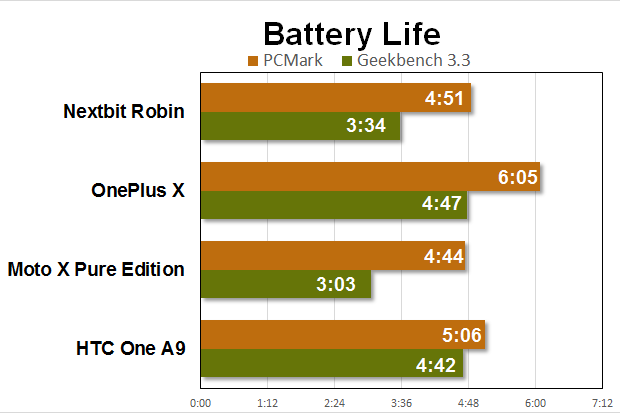 This is where the phone let me down. The Robin appeared to be relatively energy efficient on standby, likely because of Marshmallow's built-in Doze mode, but it fared differently in our battery benchmarks. The 2650mAh battery pack lasted four hours and 51 minutes in PCMark, and three hours and 33 minutes in Geekbench, with the display calibrated to 200 nits. It managed outperformed the Moto X Pure Edition and its 3000mAh battery, but it fell behind other devices with similar-sized battery packs, like the Samsung Galaxy S6.
Half-baked camera abilities
The Robin's 13-megapixel rear-facing camera sensor is plenty enough for pointing and shooting, but it lacks some essential camera features. There's a manual mode, but it's severely limited, as you can only adjust the exposure, ISO, white balance, or focal point. The Robin doesn't offer a panoramic mode, either (at least not yet—Nextbit said that's coming in a software update), and while the HDR feature is plenty capable, it's painfully slow. There's also an integrated burst mode you can activate by holding down the shutter button, but it's only available when HDR is off. At the very least, the camera software is simple enough for anyone to use, but it's not like there are enough features available to clog up the interface in the first place.
["source -pcworld"]