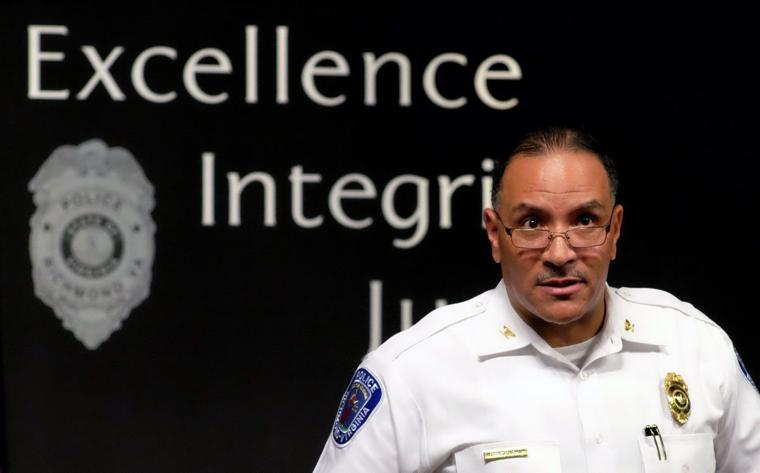 Richmond Police Chief Alfred Durham has commenced an internal affairs investigation of his department's human resources director after she posted a Facebook message last week that some officers view as offensive, demeaning and "over the top."
HR Director Antoinette Archer's message, posted on her Facebook page July 13, "concerned me so much that I opened up an internal affairs investigation," Durham said Thursday. "I had some serious concerns."
A staff member brought the matter to Durham's attention July 14, "and I immediately acted on it."
"I don't do Facebook," the chief added. But "I saw it, I read it myself."
Archer couldn't immediately be reached for comment.
Her posting is labeled as an "HR Tip," presumably to Richmond officers complaining about their wages.
It reads: "You accepted your position based upon the information you had during the hiring process — this included the job description, your personal circumstances (expenses) and the salary the organization was offering. Employers offered you the position based upon your knowledge, skills and abilities and within the pre-determined salary range for the position."
"The salary offer on the table doesn't consider your daycare expenses, car note or mortgage … or future circumstances, such as weddings, divorce, or death — it's your responsibility to ensure that the position you accepted provides for those things … not your employer … and if through the years, your circumstances change and your employer is no longer able to help you sustain or grow your finances … guess what? You still have choices just like the choice you made in the beginning!"
"Increase your skill set and apply for a promotion; increase your skill set and apply for another job … in many cases if you make yourself invaluable to your current employer — they will do as much as they can to keep you … but never forget the choice is always YOURS! Working everyday and complaining about your salary is futile and unproductive … change begins with you! If you need or want something different — go get it and stop EXPECTING someone to give it!"
The note ends with several hashtags, including getityourself, notmyfaultyouboughtmercedesonfordsalary, getasidehustle, wearpayless, stayoutofSaks and shopatSears.
The hashtags are what apparently most infuriated the rank-and-file.
"All my members that called me, and all the officers that I hear talking about it" mentioned the hashtags, said Tony Paciello, president of the Richmond Coalition of Police. "I think that really put everything over the top."
"My phone started ringing off the hook … once it started getting around, about how unprofessional it was, especially for someone in her position," he added.
Durham confirmed that Archer makes about $90,000 per year and has a city car assigned to her.
Paciello said when Richmond officers accepted their jobs, they were advised of a pay plan that would include periodic raises.
"And never was it sold to them that there's going to be pay freezes five out of six years, and health care was going to go up," he added. "So the way she spoke in that post was kind of like, you shouldn't have expected that and it's not my problem."
"Well that's not true," Paciello continued. "We bought into a job where we saw the end road of retirement and how we're going to get there, and we've been stuck. … There are officers that … are (being paid) $10,000 under what they should be getting paid."
["source – richmond.com"]