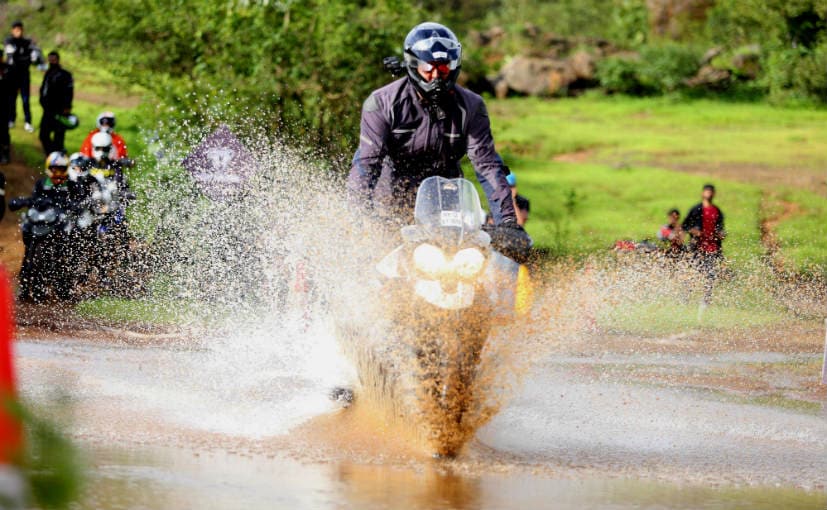 An adventure bike is designed for touring – for covering inter-state distances and for long hours in the saddle, over expressways, state highways and even single track roads, sometimes in the back of beyond. Of course, adventure bikes are primarily designed for covering long distances on tarmac, but when the going gets tough, and the roads disappear, these bikes also have the capability to take on almost anything – dirt, gravel, sand, slush and rocky terrain. And this is exactly the kind of job profile the Triumph Tiger is designed for.
The Triumph Tiger family of motorcycles may be capable enough, but it's more often the skills of the rider which is lacking, and that is what the Triumph Tiger Academy tries to address. Triumph Motorcycles India has been organising the Tiger Training Academy for some time now, primarily for Tiger owners, adventure enthusiasts, and prospective buyers, to enhance their skills, as well as understand and use the off-road capability of the bikes to their full potential. This time around though, it was the turn of automotive journalists to upskill themselves, and the focus was on learning off-road skills on the Triumph Tiger 800.
The day started with veteran rider and Triumph Tiger Academy chief trainer Vijay Parmar talking about practicing safe riding skills – choosing the right riding gear, using the correct riding techniques and following the do's and don'ts of adventure riding. The informal "classroom" training revolved around technique – what to do, what not to do, and how to pick up a bike which has tipped over. For many riders, riding a big adventure bike like the Triumph Tiger off-road seemed daunting at first, because of the tall stance and over 200 kg weight of the bike.
The course charted out near Lonavla in Maharashtra, started with a slalom course on slippery surface, to learn and familiarise with how the Tiger can be manoeuvred around obstacles. It seemed to be a case of easier said and done, but with a few runs along the course, things started looking up, for most of us.
"I wish we had some more time to get familiar with the bikes. We just got on and immediately started tackling the obstacle course. It was intimidating at first, but it all fell into place. I definitely had a very good experience here and will go back with thrilling memories and definitely a set of better skills as a rider," said P Tharyan, Editor, Motown India.
Then it was time to explore the capabilities of the bike further – water crossings, going over obstacles and using the right mode. Most of the bikes in the training session were the top of the line variants – the Tiger 800 XRx and the Tiger 800 XCx. They come with different riding modes, switchable traction control, switchable ABS and choice of several throttle maps, delivering different throttle response on each map. For off-road use, it was simple – either choose the pre-set Off-Road map, or the Sport map, and switch off both traction control and ABS for off-road use. It was a gruelling session, slipping, sliding and falling, but eventually, it turned out to be an educating experience, both for riders with some off-road experience and some without.
"I am used to being off-road, but only on 4×4 vehicles – that's more my scene, playing in the muck with my off-road vehicles. As a rider, I'm more of a strictly-tarmac, cruiser rider. This was the first time I've been on an off-road adventure like this, that too, on a heavy bike like the Triumph Tiger. But it certainly opened up a lot of possibilities, and I will go back from here, becoming a better rider," said Roshun Povaiah, Editor – Auto and Tech, The Quint.
The Triumph Tiger Academy is a welcome change; for many of us, it was an experience to unlearn a lot of self-taught skills, and also to hone and learn many new things. Most of all, the session with professional guidance taught the participants one valuable lesson – trust the bike and have confidence, both on the bike and in your individual skills. Eventually, the Triumph Tiger opened up a whole new world of possibilities.
Despite being a big, and heavy adventure bike, the Triumph Tiger 800 proved to be a capable and off-road worthy motorcycle. The biggest lesson I came back with, is this – never go on a trail on any off-road bike, alone; you will need all the help, in case of a fall, or even a mechanical problem. And falling over is part of the off-road experience, so wearing the right gear is absolutely essential. In all, adventures are best enjoyed in the company of friends and like-minded folks, and as for me, I just can't wait to head out on the next adventure on my Triumph Tiger.
["source=auto.ndtv"]