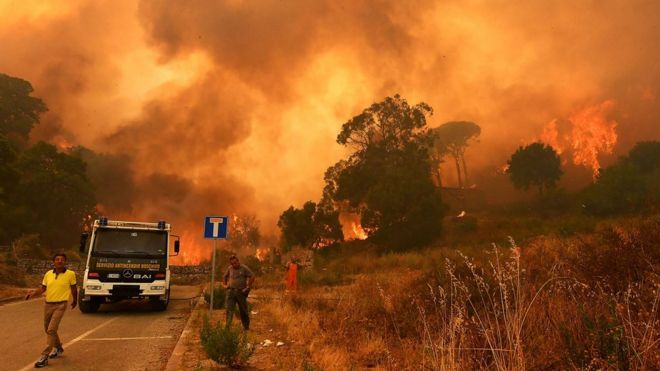 Italian police have detained 15 volunteer firefighters in southern Sicily accused of starting fires in order to get paid to put them out.
In the alleged fraud, the volunteers rang the emergency 115 number themselves or got friends or relatives to do it. Their commander allegedly skipped shifts in order to start fires.
The team, in the Ragusa district, came under suspicion because they were called out more often than others.
Each was paid about €10 (£9) an hour.
Italians are sweltering in a heatwave that has pushed temperatures above 40C (104F) and dried out the vegetation, making wildfires common.
Spain, Portugal, southern France and the Balkans have also experienced abnormally hot weather this summer.
Italian media report that most of the 15 volunteers detained in Ragusa have admitted starting fires deliberately. Ragusa is in southeastern Sicily, about 105km (65 miles) from Catania.
Source:-BBC