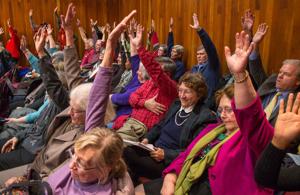 U.S. District Judge Catherine Eagles reinforced Thursday what Greensboro residents and city leaders have said for months.
The changes forced on their City Council by the state legislature had no rational basis.
But Greensboro residents and city leaders had no power to stop it. Eagles did. She heard arguments in court Thursday morning and, several hours later, granted an injunction stopping implementation of the new election plan pending a full trial, perhaps next year. Filing will open Monday — three weeks late, thanks to the turmoil — for candidates running for City Council under the same system that's served well for 32 years.
Eagles could not have been more decisive. She devoted most of her 21-page written order to one sentence in House Bill 263: the dictate that "the City of Greensboro shall not alter or amend the form of government for the City."
That was the primary point of argument supporting the legal complaint by the city and individual plaintiffs — that they were denied equal protection.
"It appears on the current record that the new statute deprives Greensboro voters, alone among municipal voters in the State, of the right to change the City's municipal government by referendum and otherwise treats the City of Greensboro and its voters differently from all other municipalities and municipal voters, without a rational basis," Eagles wrote.
While the legislature has the authority under the state constitution to change the form of city governments, it must do so within the constraints of the U.S. Constitution, Eagles asserted. This the legislature failed to do, without explanation or justification.
That was the approach taken by the plan's originator, Sen. Trudy Wade (R-Guilford). While she explained her reasoning for eliminating at-large representation on the council and creating eight districts instead of five, she was mute on the provision denying Greensboro the opportunity allowed under law to make future changes or for its citizens to vote on those changes. It seemed like a rebuke to Greensboro for resisting her plan. If that was what motivated Wade, it backfired in court.
The hearing itself was odd, with no one speaking for the legislature. The defendant, the Guilford County Board of Elections, professed neutrality. Attorney General Roy Cooper and the legislature itself declined to intervene, although Eagles noted that both had the opportunity.
The plaintiffs' arguments likely would have prevailed anyway. Going forward with the election under the new system would subject voters to government, "at least for a time, by a City Council that was elected in violation of equal protection requirements," Eagles wrote.
Meanwhile, "there is little harm to anyone from delaying implementation," should the legislature ultimately prevail.
That is exactly right. This scheme was enacted through a spurious process and handed to Greensboro at the 11th hour. It trampled over an unwilling public. And there never was a good reason why
["source – greensboro.com"]