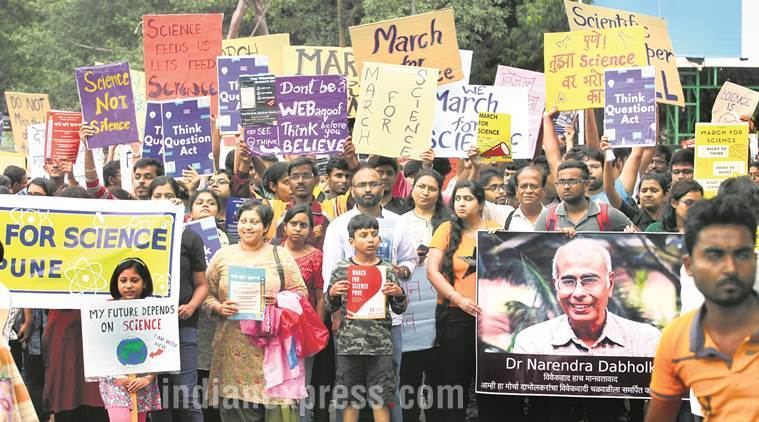 Five-year-old Irabati Ghose and 93-year-old Shantabai Ranade were among over 600 students, scientists and social activists, who marched on the streets of Pune for science. As scheduled, the 'March for Science' started on time, as the Pune police was finding it hard to manage the 200 participants, who had already gathered near the Gandhi statue, outside Pune railway station on Wednesday evening.
The hour-long march saw participation mostly from scientists and students associated with the Indian Institute of Science, Education and Research (IISER), Agharkar Research Institute (ARI), Inter University Centre of Astronomy and Astrophysics (IUCAA), among other prominent institutes, several NGOs and social groups in the city.
Amid light rain, participants were seen marching on the streets holding placards, shouting slogans and singing songs. Scientists have been demanding better budgetary allocations for scientific activities and policies that support research work.
Maharashtra Andhashraddha Nirmoolan Samiti's Dr Hamid Dhabolkar, son of slain anti-superstition activist Dr Narendra Dhabolkar, said his late father would have been happy to witness such a march. "My father worked tirelessly all his life to eradicate superstition. He taught people to reason and question. I am elated to see the younger generation act responsibly and take to the streets for their rights…," said Dhabolkar.
Voicing her concerns about the "government's growing anti-scientific approach", social activist Shantabai Ranade said, "Never in my life, as a social activist, have I come across a government, which is so against the scientific temperament. Even the British supported and promoted science… these blindfolded beliefs are damaging the country and can derail its progress."
[Source"indianexpress"]