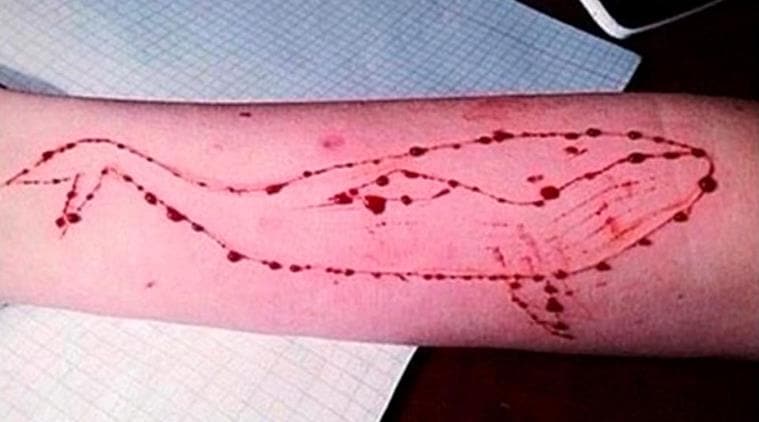 Blue Whale: A reported suicide game (Source: Twitter)
Over the past few months, an Internet "game" called the 'Blue Whale Challenge' has been blamed for the deaths of well over 100 young people in countries around the world — including at least five teens in India. The government has now asked Internet majors like Google, Facebook, WhatsApp, Instagram, Microsoft and Yahoo to "immediately remove" links of "this deadly game" from their platforms. The Ministry for Women and Child Development tweeted this week that Minister Maneka Gandhi had sought the intervention of Home Minister Rajnath Singhand IT Minister Ravi Shankar Prasad to remove the challenge from social media, and appealed to "parents & elders to monitor the activities of children & dissuade them from falling prey to such challenges".
What is the Blue Whale Challenge?
In the Blue Whale Challenge, also called the Blue Whale game, a group of administrators or a curator asks online participants to complete daily tasks over a 50-day period. Some of these tasks are boring (listen to music sent by curators); some are weird or dangerous (cut your lips, poke your hand with a needle). Participants must share proof — photos — of having completed the challenges/tasks. The 50th task is literally the final — participants have to kill themselves. Read | Kerala: Mother suspects Blue Whale 3 months after son's suicide
Is the game available for download?
This isn't a game you could download from an app store. Users might download an APK sent by an administrator, or by clicking a link on social media platforms such as Instagram or Facebook. Hashtags like #bluewhalechallenge, #curatorfindme, #i_am_whale are seen as signals from, and for, the anonymous curators. On Instagram, users clicking the #bluewhalechallenge or searching for the 'game' are being shown a warning: "Posts with words or tags you're searching for often encourage behaviour that can cause harm and even lead to death. If you're going through something difficult, we'd like to help."
What evidence is available to link a suicide to the challenge?
While deaths in many countries are being attributed to the 'game', independent verification is yet unavailable. The links are usually claimed by family or friends of the suicide victim who claim to have seen the victim perform the tasks. India has reported at least five deaths, the latest being in Kerala. In Russia, over 130 deaths have been attributed to the 'game', and at least two individuals have been arrested in connection. In Europe and America, both school authorities and police have begun issuing advisories to parents, making them aware of the 'game' and urging them to be vigilant.
Who are the targets of the 'game'?
The question everyone is asking is why a teenager — or anyone else — would want to take part in a game of death, or even take up such challenges. Experts suggest that the gamers' victims are of impressionable age, and seeking "validation from the world around". There have been reports that those who try to quit some way through the 'game' are threatened. A correspondent of the US government-funded Radio Free Europe/Radio Liberty who signed up for the challenge posing as a 15-year-old was told "they will come after you" when the undercover reporter asked what happened to those who quit. Read | Blue Whale challenge: These are the 5 suspected cases in India
And what is the so-called 'Pink Whale Challenge'?
This game is the opposite of the Blue Whale suicide challenge, and "encourages positive and generous acts and attempts to bring happiness in the participant's daily life". Conceived in Brazil, the challenge has Facebook and Instagram pages with over 3,40,000 followers taking the positive challenges. The challenge, called Baleia Rosa, was started in April, and has daily 'good' tasks. The project is now aided by the Government of São Paulo state in Brazil. Apart from the social media platforms, the challenge can be accessed via baleiarosa.com.br and a free smartphone app for Android and iOS. The administrators say they want to prove that the Internet can be used to viralise the good. Read | Pink Whale Challenge emerges as option to counter Blue Whale suicide challenge
["Source-indianexpress"]